Holiday Gift Guide for the Speed Freak in Your Life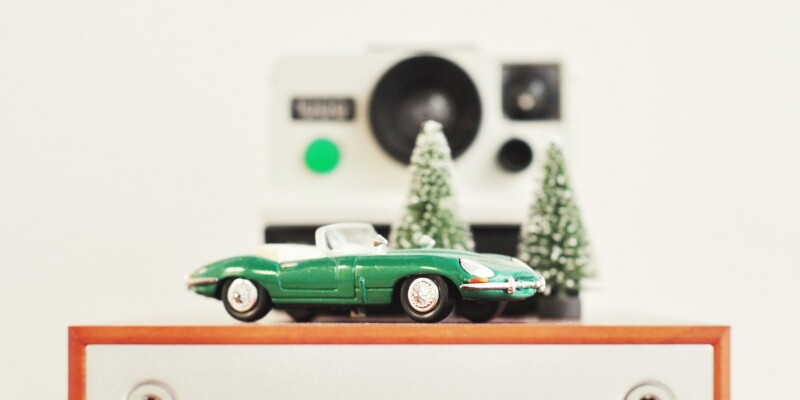 December 11, 2020
Are you shopping for that speed demon, certified car nut, or race car enthusiast in your life? You're in the right place! The majority of car freaks out there are adults. And, since most adults don't pen a letter to Santa spelling out their deepest, darkest desires, you have to take a guess and hope you picked something good.
But don't worry! You don't have to do it alone. We'll help you turn that spray-and-pray shopping into a targeted game of darts. These are 7 gifts that petrolheads will absolutely love.
 🏎️ Grab a SpeedSportz Racing Track gift card to get in on the action.
7 Gifts for the Car Lover in Your Life
1. Driving Apparel
Your car-loving friend or family member doesn't have to hide their love. They can wear that gasoline right on their sleeves. Think about getting them racing/driving apparel. Racing hats and gloves can be a great way to make them feel more comfortable when they're behind the wheel while racing t-shirts and socks can let them show off their car love or showcase their favorite racer.
You have an absolutely insane amount of stuff to pick from here. These are some of our favorites, but you should definitely try to sneak a conversation in to get a feel for the kind of racing merch and apparel that car nut in your life loves.
2. Go Kart Racing Gift Cards
We can't all buy $500,000 racing cars and take a trip to the track. So how do you simulate that fast-paced racing lifestyle without stepping into a Porsche? You use go-carts! These aerodynamic speed demons let you race around a track and pump your blood full of pure adrenaline. Sure! There's a winner at the end. But is there really? You get to step into a micro-race-car and live out your NASCAR fantasies in a controlled environment. It sounds like everyone is a winner, doesn't it? 
But here's the thing. Go-karts can actually prepare you for the track. At SpeedSportz Racing Track, I've mentored a plethora of go-kart students who ended up turning into professional racers — including NASCAR's own Chase Elliott.

Racing gift cards are also a great way to provide an experience, instead of MORE STUFF! Your dad/brother/sister/mom/BFF might not remember those cute cat socks that got them one year, but they will definitely remember the time you gave them the experience of racing around the track!
Grab a SpeedSportz Gift Certificate Now!
3. Safety Gear
Alright. Let's talk about safety. If you're buying this gift for a younger enthusiast, safety gear may be one of the last things they want to see under the Christmas tree or next to their birthday cake. But everyone NEEDS safety gear. It can literally save your life. Sure! It's not the flashiest gift, and it's not the most adrenaline rushing part of the racing world. But it is ABSOLUTELY the single most important part of racing.
There are tons of companies putting out racing safety gear, so this is a take-your-pick suggestion. But, here's a few brands that we like:
4. Coffee Table Books
The art of racing isn't only about the feel and control; it's about aesthetics. Cars are intricate pieces of beautiful machinery that enable us to explore the depths of the world and express our unbound freedom in creative ways. Those gorgeous Lamborghinis that litter the racing magazines and those slick, speedy Porsches that have incredibly aerodynamic properties are eye-catching. Sometimes, you just want to stare at them.
And with coffee table books, you can! Here are a few that we love:
5. Racing Watch
Watches play an important role in racing history. Not only have watches been designed to mimic the look and performance of race cars, but watches are built with complications that specifically help racers — like racing dials and unique chronometers. Plus, Steve McQueen popularized them. And he's pretty much the coolest cat ever.
Some of the more popular options are the Rolex Daytona, the Omega Speedmaster Racing Master Chronometer, and The Steve McQueen Monaco. But there are also some budget-friendly options offered by brands like Tissot and Omologato.
We're not watch experts, so we'll leave the research on this one up to you. 
*Warning: These can get extremely expensive, so try to search for reviews with the words "budget" unless you want to wake up with wallet-induced nightmares. Yikes!
6. Wireless Car Charger
Want to buy the gift of utility? Get that special someone a wireless car charger. Now, this may not seem like a blockbuster present. But these things are incredibly useful. Most racing enthusiasts enjoy being in the car. It's a place of peace and serenity. However, it lacks some of the home essentials that you may want during long road trips or around the city drives. Like the ability to charge your phone.
This is one of those "you didn't know you needed it until you had it" gifts.
7. Dash Cam
Cars aren't cheap. And, with a slight rise in car burglaries over the past few years, dash cam sales are exploding. Not only do dash camps protect cars from being burglarized, but they can be extremely useful during car crashes and insurance claims. They're documented proof, and the videos these cams provide can help deter insurance fraud claims, lying drivers, and sneaky thieves.
The newfound popularity of dash cams means that there are plenty on the market to choose from. Best Buy, Walmart, and Amazon all sell a plethora of these cams at different price ranges. Pick the features you need and send that car nut some extra security.
Find the Right Gift With SpeedSportz
Finding the right gifts for car lovers may sound a little intimidating (especially if you don't know much about cars.) Luckily there are plenty of options on the market that will surely put a smile on their faces. From clothing and safety equipment to coffee table books and a fast-paced, exciting atmosphere of go-kart racing, there's a perfect gift out there waiting for you. You just need to know where to look. Want to give the gift of an experience instead of an object? Bring that car guru over to our place. We'll get them behind a go-kart and let their instincts take the wheel.

This blog was originally published in November 2019. Updated for accuracy in December 2020.