Women Can Love Go-Kart Racing Too!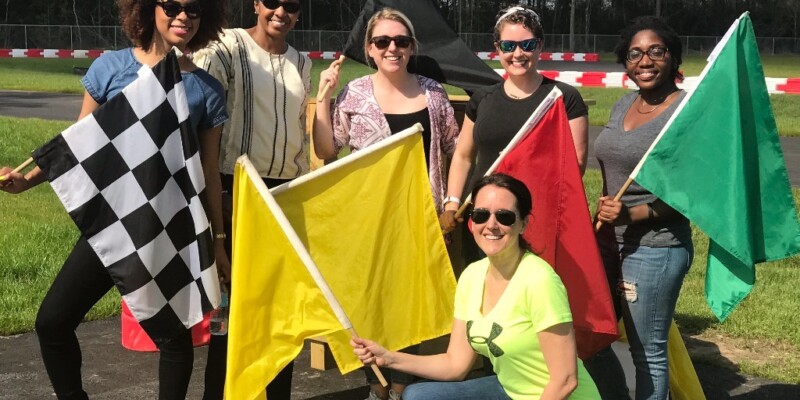 October 12, 2018
Whether you're a NASCAR super fan or you know next to nothing about motorsports, you've probably at least heard of Danica Patrick. Now retired, Patrick is worth an estimated $60 million thanks to her success on the race track, most notably a 2008 win that made her the only woman to win an IndyCar Series race. Anyone who assumes that women don't belong on the racetrack are mistaken!
Most women (or men) will never slide into the seat of a racecar. That does not mean the dream of being able to put pedal to metal and floor it, legally, is out of reach. Are you ready to channel your inner Danica? Here are five reasons why karting is just as exciting for women as it is for men!
1.   Grab the gals and enjoy a happier hour.
If you're looking for a unique alternative to your girl's nights out, karting fits the bill perfectly. Check your local go-kart track for weeknight specials. Our track, Speedsportz, is open to the public Wednesdays through Sundays, but we have "happy hour" pricing (buy two races get one free!) beginning at 3 p.m. and lasting until 9 p.m. Wednesday and Thursday and until 6 p.m. Friday. Cheers to that!
2.   Plan an unforgettable bachelorette party.
Get the party started off on the right foot by surprising the bride to be with an adrenaline-packed hour of kart racing to set the mood for her special night on the town. Wedding planning is stressful, and there's no better way to blow off some steam than barreling down the track in an open kart at 45 mph! Speedsportz even has a 250-square-foot party room available for your post-racing festivities.
3. Grab your partner for a hobby you'll both love!
If you're tired of sitting at home while your husband or boyfriend goes out with the guys, do something about it! He may not be into joining a book club. You may not have any desire to learn golf or poker. You both will enjoy a bit of friendly competition on the track! Kart racing is the perfect way to spice up your relationship!
4.   Prove something to yourself.
Have you been in a bit of a rut? If so, why not break out of your comfort zone and prove to the yourself that you're very capable of trying and mastering a new hobby. You've still got it. You just need to remind yourself of that fact! Kart racing is liberating and exhilarating and will shake things up for you in a very good way!
5.   Help your daughter experience true Girl Power!
There's no better way to instill in our daughters the concept of self-belief and to banish stereotypes than leading by example. For your next mother-daughter outing, why not go kart racing? You'll forever be known as the "cool mom" and your daughter will learn how fierce she truly is! 
 The sport of go-karting is fun and ideal for men and women, boys and girls (ages 13 and up.) And, if you live in and around Houston, Kingwood, and The Woodlands, you can satisfy your need for speed at Speedsportz Racing Park in New Caney. Book your race in advance if you have 5 or more, otherwise just stop by and give us a spin Wednesday through Sunday.