What is Enduro Racing?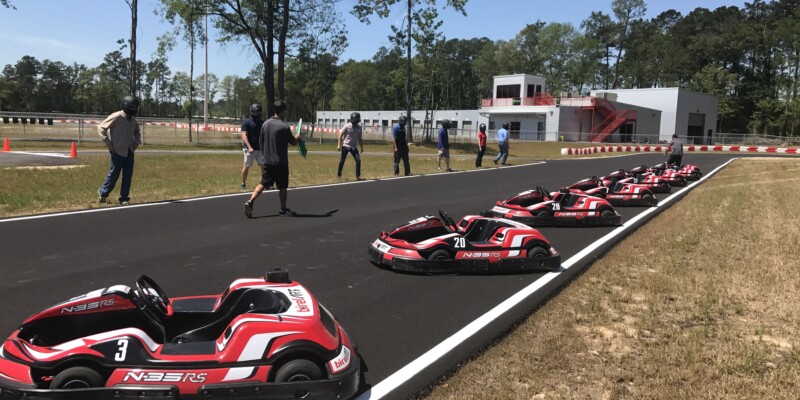 March 20, 2018
Can you endure an action-packed, nail-biting experience that turns friends and coworkers into enemy combatants – temporarily – but ultimately brings them closer together? Team Enduro is a relay-race style karting experience. Teams compete for the best finishing position – and the coveted yet elusive SpeedSportz Racing Park trophy
Enduro Racing: Puts the Brakes on Other Corporate Events
If you manage a team of employees, you know that the key to a successful organization is a team that is cohesive, communicates effectively, works well together, and ideally enjoys each other's company. Smart managers understand the value of corporate activities to encourage camaraderie. They also know that some corporate team events are, shall we say, cheesy? If you're going to spend the time and money to organize a corporate team-building opportunity, it might as well be something guaranteed to not be a snoozefest!
What Does Team Enduro Racing Entail?
Before you head to our racetrack on the day of your scheduled event, you'll divide your group up into up to 20 teams of two or more drivers. Here is where you can work your own magic, by strategically planning your teams to achieve your desired end goal. Do you want to encourage Joe from accounting to come out of his shell? Team him up with chatty Cathy in customer service. You get the point.
Your group will meet up at our track and receive instructions and a safety briefing. Then they'll don their helmets, get into their groups, and wait for the checkered flag to signal the start of this 90-minute high-energy, high-speed, realistic racing relay. Our track is outside and our karts top out at 45 mph! The goal is to achieve the fastest finishing time - while strategizing how best to address mandatory pit stops and driver changes. (There's that subtle exercise in communication that is a top goal of corporate team events!)
Ideal for Corporate Team Events – And Group Events of All Kinds!
Do you have a teen or adult birthday bash to plan or a family reunion coming up? Are you simply in desperate need of a girl's or guy's (or couples') night out? Team Enduro racing is the most exciting group activity you've probably never tried. You can be certain that once you and your group go, you'll certainly want to go back! Speedsportz opens up its team Enduro racing course to the public every other month. Get your guest list together and reserve your spot early!