Don't Bore Your Employees with Your Next Corporate Team Building Event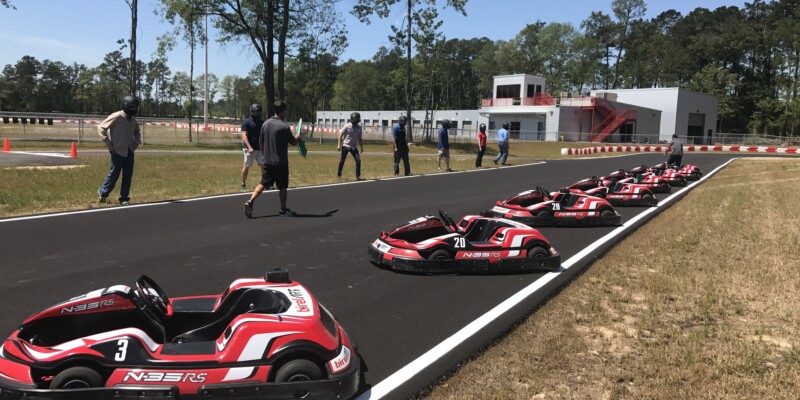 February 7, 2018
"Company team building" – that description doesn't sound very exciting. In reality, it's usually not! Traditional "company team building" activities – things like leadership seminars, training sessions, and even company-wide baby showers and birthday parties – aren't events that most employees look forward to. In fact, most employees probably participate because they don't have much choice.
Fast Track Your 2018 Corporate Team Building
So, why do companies even bother sponsoring corporate group activities? Probably because research repeatedly shows that employees who feel engaged with each other and feel like they're part of a team are happier at work and more productive. Their employers, as a result, experience less turnover and tend to be more profitable. Corporate group activities activities can be incredibly beneficial! Unfortunately, many companies' attempts at team building fall flat because they're boring.
Not All "Fun" Venues are Ideal for Corporate Functions
There's a saying … "No good deed goes unpunished." Sometimes, employers do make an effort to think outside the box and outside the office with their corporate functions. They may plan an outing at one of those places where attendees learn to paint a picture (or a plate or a mug) while sipping on adult beverages. That may be a fun activity, but it's mostly a solitary activity. Attendees are so focused on perfecting their own masterpiece that very little team building occurs.
Another outing that gets an "A" for effort (and that can be super fun, but that falls short on the team-building component) is an excursion to one of those popular indoor/outdoor golfing places. First, an abundance of alcohol can be dangerous during a work outing. Second, there are always folks who are avid, outstanding golfers. They tend to flock together and share golf stories rather than bond with the entire team.
And what about those escape-from-the-room places? They sound fun in concept, but have you ever been? After the novelty wears off, it just becomes a race to get to the end so everyone can get out of that darn room and go home!
Build Camaraderie at Houston's High-Speed Adult Playground
There is another option if you live in the Greater Houston Area! Why not bring your team together for a corporate team building event that your employees will actually love, won't become bored with, and is certain to instill some friendly camaraderie and competition? Appeal to your employees' need for speed by planning a heart-pounding high speed karting corporate outing at Speedsportz Racing Park!
Located in North Houston near the Grand Parkway, we offer Houston-area companies a corporate team building activity that blows all others away! Exhilarating, action-packed, adrenaline-filled, and completely memorable and Instagram-worthy … high-speed kart racing is certainly not a ho-hum run of the mill corporate event! Karting legend Alan Rudolph designed our tracks for serious karters – not kids (we're strictly a 12-and-up facility.) Our half-mile concession track is ideal for your next corporate event. Divide your crew into teams and enjoy some friendly, yet serious competition! Only one team will come out on top, but all of your employees will leave feeling like winners and ready to motor into 2018 on all four cylinders!
Whether you run a small business with 10 employees or a corporation with more than 100, we're ready to accommodate you in style at Speedsportz Racing Park. You can rent a meeting room, order catering, and hold a department meeting; you can rent out the entire Speedsportz facility for a lavish company event; or you can book an outing for a group as small as 10.  Contact us today to start planning your corporate outing today!