Intro to Karting
HALF DAY: $499 | ONE DAY: $799
If you're a beginner wanting to experience the thrill of high performance karting then this is the course for you. It's an introduction to go-karting!
BOOK YOUR COURSE NOW! 832-432-4703
HALF DAY: $499 | ONE DAY: $799
When students participate in the Introduction to Karting course with the Alan Rudolph Racing Academy (ARRA), they will begin in the classroom learning about all of the basics of performance karting. Topics to be covered include:
Track etiquette
Proper seating
Hand positions
Vision
Line techniques
Proper throttle
Braking
After the classroom portion of the class, racers will be off to the race track starting with a quick overview of the kart and a 'Track Talk' which will familiarize you with the circuit. Then it's time to begin our track sessions!
The first track session will be a slalom exercise where we will focus on vision, line, and smoothness of our kart driving.
The next track session we will introduce the track with a lead and follow, where the instructor will show students the proper line around the circuit.
Finally, the course will conclude with open lapping sessions, and will include instruction between each session maximizing your amount of seat time and getting you "Up to Speed."
The ARRA Introduction to Karting course utilizes the Speedsportz Racing Park's 125cc Rotax TAG karts. Students must be at least 13 years of age to use these karts, as they are able to reach up to 70mph!
However, younger students can experience performance karting too; contact us for more information about junior karting classes!
To schedule your Introduction to Karting with Houston's best performance driving school, you can complete our online form, email us at info@speedsportztx.com, or call us at 866-607-7223.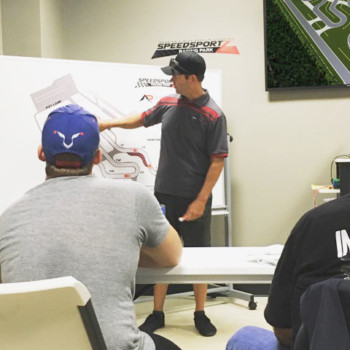 Please Note:
Safety equipment will be provided if needed.
All karting school participants MUST wear long pants and closed-toed shoes.