What is "Team Slalom"?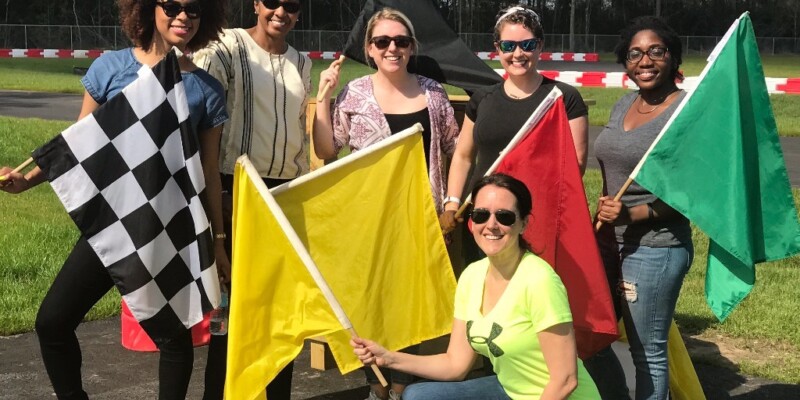 May 8, 2018
Does your job description include setting up corporate activities that will create a sense of unity and common purpose amongst employees? Are you simply interested in lining up some enjoyable company events to help your employees get to know each other better and "gel" as a team? We've got a suggestion for you that checks those boxes, is tons of fun, probably isn't on your radar, and will probably be a brand-new experience for every member on your team: Team Slalom!
What is That?
Slalom is an exciting, fast-paced, team-relay style event that takes place in full-sized performance cars. Teams navigate a race course outfitted with a series of cones. As the green flag is waved signaling the start of the race, the clock begins as  the first driver on a team navigates the series of cones as fast as he can while his teammates cheer him on. Once he finishes, he jumps out of the car and races over and tags the next driver on his team, who speeds off to navigate the course, stops, then tags the next driver. (The number of driver changes depends on the number of drivers per team.) Once the last driver has completed the course, the clock is stopped. Then, the next team goes, and so on. The team with the fastest time wins!
Why Slalom?
Besides the fact that it's a fun word to say, slalom is an ideal team-building exercise for groups of all types and sizes – corporate team events, sports teams, families, couples, etc. Why is it ideal? Because it is most definitely not lame – as is the case with many traditional group events.
Slalom racing is an especially excellent option for those challenged to come up with corporate team events that employees actually look forward to rather than dread. When you announce to employees your company's lineup of annual corporate activities they should plan to attend, and it includes uninspired activities like a company picnic, an obstacle course culminating in the obligatory "trust fall," and (worst of all) a motivational speaker, they're more likely to think, "Thanks for nothing" rather than "Thanks!" Guilting your employees into participating in corporate activities they don't really want to participate in doesn't really set the tone for success.
Presenting your employees with a unique, exciting, action-packed, adrenaline-fueling opportunity to bond amongst friendly competition, on the other hand, sets the stage for true team bonding and camaraderie. You can be certain that team slalom group outings will elicit some friendly trash-talking around the office – in a good way that can deepen relationships and spark friendships.
If you'd like to learn more about planning a team slalom event for your group, contact us at Speedsportz Racing Park to schedule your next corporate team event! We'll outfit your group, show them the ropes, set them loose on our course.